The Internet is part of everyone's life, every day. We use the Internet at work, home, for enjoyment, and to connect with those close to us.

However, being constantly connected brings increased risk of theft, fraud, and abuse. No country, industry, community, or individual is immune to cyber risks. As a nation, we face constant cyber threats against our critical infrastructure and economy. As individuals, cybersecurity risks can threaten our finances, identity, and privacy. Since our way of life depends on critical infrastructure and the digital technology that operates it, cybersecurity is one of our country's most important national security priorities, and we each have a role to play—cybersecurity is a shared responsibility.

---

Security Policies / Procedures

Policies

7540.04 - Staff Network and Internet Acceptable Use and Safety
7542 - Access From Personally-Owned Computers and/or Other Web-Enabled Devices
7543 - Utilization of the District's Website and Remote Access to the District's Network

Procedures
Security Awareness Videos
CyberSecurity Announcements
Ouch! Security Newsletters
Top 5 Practices

How do you practice CyberSecurity?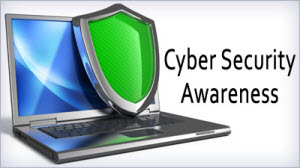 Security Credentials

850-487-7179

Newsletters / Resources

850-487-7357
This poster identifies and explains different ways cyber criminals can make money from a hacked computer. This helps ordinary computer users understand why they are a target and how they are worth money. This is an excellent resource to actively engage people in your awareness program. This poster is based on the original work of Brian Krebs.

This poster teaches people how to identify phishing and spear phishing emails. It provides an example of a common phishing email and the most common indicators that it is an attack. This poster was created as a community project based on input from numerous individuals and organizations.

This presentation is for parents to present to children in grades K-5 on how they can safely use the Internet. The information here is similar to the lessons learned in Securing Your Kids, but presented in a graphical, kid-friendly manner. You are free to use this presentation for any community projects that help kids.
Last Modified on October 12, 2022