Mission Statement
Killearn Lakes Elementary School provides students with an optimal learning environment to create and develop lifelong learners.

KLES Rules & Expectations

Keep Learning Every Second by being:

Respectful

Responsible, &

Ready to Learn!
School Hours
School begins each day at 8:30a.m. and continues until 2:50p.m.

Early Release days end at 12:20 p.m.

Morning supervision will begin at 7:45 a.m.

Afternoon supervision will be available until 3:20 p.m.
Attendance
If your child is absent from school due to illness, please contact the front office or registrar as soon as possible. Students arriving after the 8:30 a.m. tardy bell must be escorted to the front office by their parents. Excessive absences/tardies include 5 unexcused in a nine-week period or 10 unexcused in a semester, or failure to provide an explanation. Excused absences will be granted for a family emergency, student illness, or a medical appointment (with doctor's note). Family vacations or trips are not considered an excused absence.

If you have any attendance questions or need to report an absence, please contact our attendance secretary, Ms. Melissa Smith at smithm7@leonschools.net or you may call her at 850-921-1265
Daily Supervision
KLES will follow School Board Policy 1213 which states the school "will provide for supervision of students for forty-five (45) minutes before the start of the school day and for thirty (30) minutes after the school day ends." This means KLES will begin supervision at 7:45 am. In the afternoon, KLES will end supervision at 3:20 pm. If you are interested in childcare starting at 7:00 am, please call the KLES EDEP at 488-1944 for morning classes.
LCS S.A.F.E.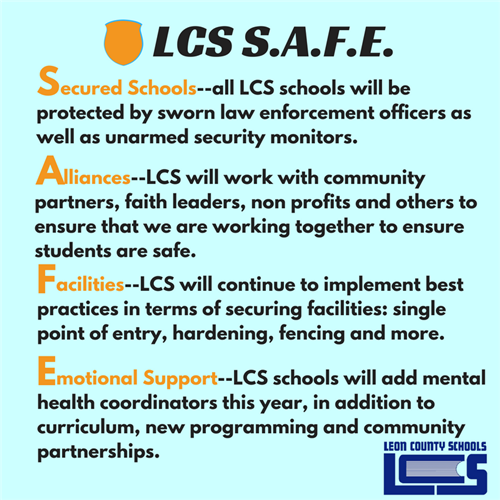 Say No to Bullying
School is challenging enough without bullies!

Take a Stand and Lend a Hand to STOMP OUT BULLYING!

---
FortifyFL is a suspicious activity reporting tool that allows you to instantly relay information to appropriate law enforcement agencies and school officials.

For an Immediate, Life-Threatening Emergency, Please Dial 911.

Please Note: Florida Statute 943.082 states that following an investigation, if it is determined that a person knowingly submitted a false tip through FortifyFl, the individual may be subject to criminal charges under FL statute 837.05.

---