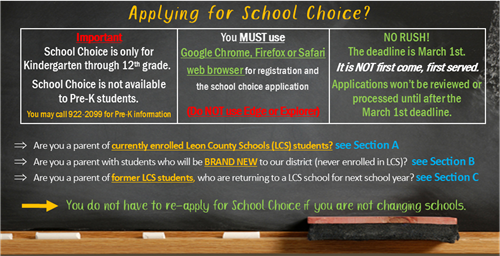 School Choice Ends on March 1st!
If you wish to apply for next year school choice (19/20 school year) NOW is the time to apply! Deadline just days away. Please visit the School Choice website for more information. www.leonschools.net/schoolchoice. Deadline to apply is March 1st and applicants will be notified by March 29th the outcome of your request.
Section A: Parents of currently enrolled Leon County Schools (LCS) students (including both Schools of Arts and Sciences, Tallahassee School of Math and Science, and Governors Charter Academy) apply for school choice by logging in to your Focus Parent Portal account
Section B: Parents with students who will be BRAND NEW to our district (never enrolled in LCS) have a 2-step process to apply for school choice.
Section C: Parents of former LCS students, who are returning to a LCS school for next school year, please contact the School Choice Office either via email at schoolchoice@leonschools.net or by phone.
---