School Hours
School Hours: 9:30 a.m. - 3:50 p.m.
Breakfast: 8:45 a.m. - 9:25 a.m.
Supervision Hours: 8:30 a.m - 4:15 p.m.
Office Hours: 7:00 a.m - 4:15 p.m.

Bell Schedule
08:45 - 09:25 Breakfast

09:30 - 11:26 1st Period/2nd Period

11:29 - 01:50 3rd Period/4th Period

12:20 - 12:45 Lunch A

12:48 - 01:13 Lunch B

01:54 - 03:50 5th Period/6th Period

03:50 Dismissal
Announcements
Graduation Live Video

Phone Conference ID: 552 943 852#

Success Academy Summer School Letter to Parent/Guardian

Dear Parent/Guardian:

Through the use of federal "American Rescue Plan" funds, the Leon County School District will be offering summer school opportunities to assist in accelerating students toward success. Success Academy has developed programs that we feel will assist your student in accelerating the recovering of potential learning loss due to the COVID-19 pandemic. Please see the information below that provides dates and times of our summer program. If you have specific questions, please contact Mr. Burch or Dr. Hatcher at (850) 488-2087. We are excited about this unique opportunity and look forward to your student attending.

Summer School Dates

June 13 – 16, 2022

June 20 – 23, 2022

July 11 – 14, 2022

July 18 – 21, 2022

Student Supervision 9:00am – 2:30pm

Breakfast 9:00am – 9:30am

Class 9:30am – 2:00pm

Lunch 11:35am – 12:00pm

*Leon County Schools will provide bus transportation with area pick-up/drop-off locations. The area pick-up/drop-off location will be posted at a later date on the Leon County Schools Transportation website https://www.leonschools.net/Page/52447.

---

Dear Parents/Guardians,

In an effort to improve our schools, the Leon County School District is conducting a 2022 Spring Parent/Guardian Climate Survey. We value your opinion and ask that you please take the time to complete this survey based upon your experiences at your child's school. If you have children at multiple school sites (example – one child in elementary school and one child in high school), we respectfully ask that you complete one survey for each school. If your children attend Ft. Braden or Woodville K – 8 School you only need to complete one survey.

Please keep in mind that the 2022 Spring Parent/Guardian Climate Survey covers the time period of August 11, 2021 through the present. In order to complete the survey, please go to:

https://www.leonschools.net//cms/module/selectsurvey/TakeSurvey.aspx?SurveyID=436

Please be assured that your responses to this survey will be anonymous. Your honest opinion is appreciated and valued. The survey window will remain open until Wednesday, March 29, 2022 at 4:00 pm. Thank you for your time and attention to this important matter.

Respectfully,

Rocky Hanna

Superintendent

---

On May 11, 2021, Governor DeSantis signed House Bill 7045 into law, resulting in several changes to the state funded scholarship programs, including an extensive expansion of the Family Empowerment Scholarship Program. House Bill 7045 expanded the Family Empowerment Scholarship Program to include two branches of eligibility, the Family Empowerment Scholarship for Educational Options and the Family Empowerment Scholarship for Students with Disabilities. Click: Family Empowerment Scholarship to access the flyer.

Per the newly signed Florida Law HB 1B, beginning today (December 2, 2021), face masks or any other facial coverings will be optional for students and adults on Leon County School's campuses; however, parents may allow their child to wear a face mask or any other facial covering at their sole discretion.

---
Mask Opt Out Forms
Dear Parent or Guardian:


COVID-19 is a respiratory illness spread mainly from person-to-person through respiratory droplets which are produced when an infected person coughs, sneezes, or talks. These droplets can land in the mouths and noses of people who are nearby or possibly be inhaled into the lungs. COVID-19 may be spread by people who are not showing symptoms which is why keeping exposed individuals separated from others is
important.


Symptoms may appear several days after exposure to the virus. The most common symptoms associated with COVID-19 are fever, cough, and difficulty breathing. If symptoms develop in your child, seek medical
care, and get tested.


Leading health experts believe the best way to prevent illness is by limiting exposure to the virus by


• maintaining physical distance,
• using a mask when around others indoors,
• washing your hands often with soap and water for at least 20 seconds,
• routinely clean and disinfect frequently touched surfaces and
• other mitigating methods.


In order to keep ALL students safe and to prevent the spread of COVID-19 in our schools and classrooms, we are temporarily requiring ALL students, Pre-K to grade 8, to wear face masks while indoors. If this temporary requirement is an issue for you and your child because of health concerns, in order to opt-out, a licensed physician or psychologist signature and medical stamp is required on this form, OR you must submit a letter indicating approval by a licensed physician or psychologist on their official letterhead. To access and print out form, please click Opt Out Forms.
Nondiscrimination Notice
Nondiscrimination Notification and Contact Information

"No person shall on the basis of sex (including transgender, gender nonconforming and gender identity), marital status, sexual orientation, race, religion, ethnicity, national origin, age, color, pregnancy, disability or genetic information be denied employment, receipt of services, access to or participation in school activities or programs if qualified to receive such services, or otherwise be discriminated against or placed in a hostile environment in any educational program or activity including those receiving federal financial assistance, except as provided by law." No person shall deny equal access or a fair opportunity to meet to, or discriminate against, any group officially affiliated with the Boy Scouts of America, or any other youth group listed in Title 36 of the United States Code as a patriotic society.

An employee, student, parent or applicant alleging discrimination with respect to employment, or any educational program or activity may contact:

Dr. Kathleen L. Rodgers
Equity Coordinator (Students)
Title IX Compliance Officer
(850) 487-7306 rodgersk@leonschools.net

Leon County School District
2757 West Pensacola Street
Tallahassee, Florida 32304

Deana McAllister
Labor and Relations
Equity Coordinator (Employees)
(850) 487-7207 mcallisterd@leonschools.net

A student or parent alleging discrimination as it relates to Section 504 of the Rehabilitation Act may contact:

Karin Gerold
504 Specialist
(850) 487-7160 geroldk@leonschools.net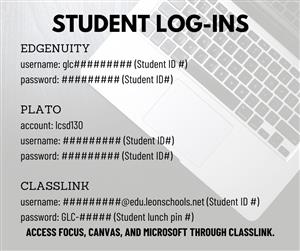 Success Academy Help Desk
The Success Academy Help Desk:

If you have a question or need support, please email the help desk at tsahelp@leonschools.net

We look forward to serving you!
Say No To Bullying
Please review the following resources to familiarize yourself with what Leon County Schools is doing to prevent bullying, and talk to your child about saying no to bullying.
Success Academy WeatherSTEM
Visit Success Academy WeatherSTEM for more information from our weather station. It offers real time weather reports on-site and teachers can use this information to enhance science, math, and technology lessons in the classroom.