Florida Department of Education has awarded a school grade of "A" for Gilchrist Elementary School!
School Hours
School Hours: 8:30 a.m. - 2:50 p.m.
Breakfast: 7:45 a.m. - 8:25 a.m.
Supervision Hours: 7:45 a.m - 3:15 p.m.
Principals Message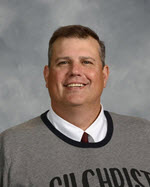 Phone: 850-487-4310
Email:
Degrees and Certifications:
Mr.

Scotty Crowe

Welcome to the Gilchrist website. Please know that your child's safety and that of our faculty and staff are our top priority. I hope you will check back here often for important announcements and other great resources for you and your children. I also encourage you to join our Gilchrist Listserv so you will receive the latest news right away. Our school community is here for our students and their families.
Nondiscrimination Notification
Nondiscrimination Notification and Contact Information

"No person shall on the basis of sex (including transgender, gender nonconforming and gender identity), marital status, sexual orientation, race, religion, ethnicity, national origin, age, color, pregnancy, disability or genetic information be denied employment, receipt of services, access to or participation in school activities or programs if qualified to receive such services, or otherwise be discriminated against or placed in a hostile environment in any educational program or activity including those receiving federal financial assistance, except as provided by law." No person shall deny equal access or a fair opportunity to meet to, or discriminate against, any group officially affiliated with the Boy Scouts of America, or any other youth group listed in Title 36 of the United States Code as a patriotic society.

An employee, student, parent or applicant alleging discrimination with respect to employment, or any educational program or activity may contact:

Dr. Kathleen L. Rodgers
Equity Coordinator (Students)
Title IX Compliance Officer
(850) 487-7306 rodgersk@leonschools.net

Leon County School District
2757 West Pensacola Street
Tallahassee, Florida 32304

Deana McAllister
Labor and Relations
Equity Coordinator (Employees)
(850) 487-7207 mcallisterd@leonschools.net

A student or parent alleging discrimination as it relates to Section 504 of the Rehabilitation Act may contact:

Karin Gerold
504 Specialist
(850) 487-7160 geroldk@leonschools.net</p
Say No To Bullying
Please review the following resources to familiarize yourself with what Leon County Schools is doing to prevent bullying, and talk to your child about saying no to bullying.