Section 504 of the Rehabilitation Act of 1973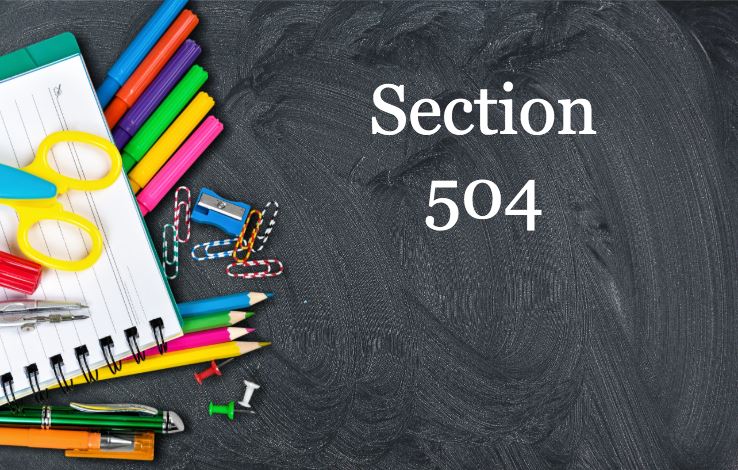 What is Section 504?

In 1973, the Vocational Rehabilitation Act was signed into law. As part of the Act, Congress enacted Section 504. Section 504 states that "no otherwise qualified individual with disabilities in the United States...shall solely by reason of his/her disability, be excluded from participation in, be denied the benefits of, or be subject to discrimination under any program or activity receiving Federal Assistance..." School districts have the responsibility under Section 504 to identify, refer, evaluate and if eligible, provide a free, appropriate public education to disabled students.
Nondiscrimination Notice
"No person shall on the basis of sex, gender identity, marital status, sexual orientation, race, religion, ethnicity, national origin, age, color, pregnancy, disability, military status or genetic information be denied employment, receipt of services, access to or participation in school activities or programs if qualified to receive such services, or otherwise be discriminated against or placed in a hostile environment in any educational program or activity including those receiving federal financial assistance, except as provided by law." No person shall deny equal access or a fair opportunity to meet to, or discriminate against, any group officially affiliated with the Boy Scouts of America, or any other youth group listed in Title 36 of the United States Code as a patriotic society.

An employee, student, parent, or applicant alleging discrimination with respect to employment, or any educational program or activity may contact:

Tonja Fitzgerald, Divisional Director
Equity Compliance Officer (Students)
Leon County School District
2757 West Pensacola Street
Tallahassee, Florida 32304
(850) 487-7309
fitzgeraldt@leonschools.net

Wallace Knight, Director
Equity Compliance Officer (Employees)
Title IX Compliance Officer
Leon County School District
2757 West Pensacola Street
Tallahassee, Florida 32304
(850) 487-7210
knightwa@leonschools.net

A student or parent alleging discrimination as it relates to Section 504 of the Rehabilitation Act may contact:

Jennifer Benton, 504 Specialist
504 Specialist
(850) 487-7317
bentonj@leonschools.net
Contact

Telephone:

(850) 487-7160

Address: 3955 W. Pensacola Street,

Tallahassee, FL 32304

and Districtwide Programs
Last Modified on November 17, 2023