Executive Summary:

Purpose

The purpose of this process is to provide critical and relevant information by the Re-open Leon Task force and other critical organizations to appropriate school district stake holders and school board members. This will be accomplished leveraging all of the following: parent feedback from surveys, relevant and appropriate data collected from state agencies, information regarding health and safety procedures, and potential instructional options to allow stakeholders to make the most effective decisions about the best way to re-open Leon County Schools in order to provide a variety of educational options to ensure instructional continuity for the parents and students in LCS Schools while ensuring we are taking all precautions for the safety of both our employees and the students. The executive summary provides pertitent information on COVID19, describes potential safety measures that may need to be put in place, and defines the high-level need, objectives and scope for possible mitigation efforts. The sections following the executive summary outline proposed governance, management strategies and controls that LCS can use in the course of a phased re-opening effort.

Strategic Business Drivers

The forces urging us forward are particularly strong at this time. These are the primary business drivers:

Mitigating any potential risk of outbreak of COVID19 within a school(s) upon return

Potential requirement to shutdown in person instruction again and return to 100% virtual instruction if mandated by a Gov Executitive Order

Potential drop in student attendance at brick-and-mortar sites

Parents demand for alternate educational options

Staffing plans & concerns

Educational opportunities presented by new technology

Parents request for alternative options

These business drivers push us forward from a risk and health safety management standpoint, and/or pull us forward from an opportunity standpoint. Learning Management Systems and 1:1 devices will play key roles in fulfilling our mission and in meeting the strategic initiatives of the District.




Task Force Vision

Provide a transparent, accountable and representative process to evaluate and select the most appropriate safety measures and procedures to allow for Leon County Schools to re-open, that takes into account the safety and needs of the district, students, faculty and staff while offering alternative educational opportunites and pathways those those that may desire or require alternative options.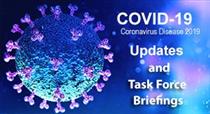 Chris Petley

Communications Manager
850-694-3009

Heather Thomas

Marketing Coordinator
850-354-3585
Last Modified on August 12, 2020