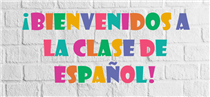 Spanish 2 & 6th Grade Spanish Supplies:

charged computer device (not phone)

headphones with microphone

spiral notebook with pockets

pencil pouch with pencils and sharpener

(or just mechanical pencils)
Welcome to Spanish with Sra. Holguin
I cannot wait for everyone to come back to school! Whether you are in Digital Academy or attending in person, we'll all be in this together! ¡Estaremos juntos todos!

I will be your teacher for Spanish 2 for 8th grade and Beginning Spanish for 6th grade. I love, love, LOVE teaching Spanish and I hope you will LOVE learning it!!

As you know, this year will be different than any other. We are navigating new territories daily! I choose to view each day as a challenge and an adventure! And, we will enjoy the adventure of learning a new language and culture! Enjoy the journey! ¡Disfruta el camino!