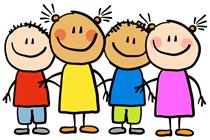 Suggested School Supplies:

Glue sticks- 3

Set of washable markers

Bottle of Glue

Tri-fold mat for rest time

1 package of disinfectant wipes

1 bottle of hand sanitizer

1 box of crayons (24 count)

Back pack large enough to hold a folder

Reusable water bottle labeled with name

change of clothing

1 package of baby wipes

1 box of tissues
Welcome to our class! We are so happy to have you with us this year! It is very important that we establish routines from the first day of school. Please make every effort to be on time. School begins at 8:30 and is dismissed at 2:50. The first day of school is a very exciting and sometimes anxious time for you and your child. Please be reassured that your child is in a positive, loving environment. As much as you may want to hang around our room, many times it makes separation much more difficult. Tell your child what to expect, "Mommy/Daddy will take you to your class, give you a hug and kiss and you will play with your friends and teachers, and I will see you later." If you are anxious then your child will be too. We will have a great year as we work together to help your child learn many new skills.
Last Modified on August 2, 2022