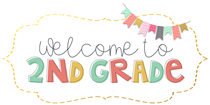 Second grade is very busy! Our language arts focus is reading fluency and comprehension, as well as varied writing genres that include opinion, expository, and narrative. We work on fluent communication such as writing complete sentences, compound sentences, paragraphs, journal assignments, and long responses that include grade-level expected language mechanics.





Additionally, we are deepening our understanding of how to apply varied mathematical strategies to problem solve when working with basic facts, place value, two & three digit addition & subtraction, geometry & patterns, measurement, and money & time. America's past, geography, economics, and civics are all units of study. Changing matter, recycling, living things, life cycles, energy, forces & motion, magnetism, and human body are themes discussed throughout the year.





Yes, indeed, we are busy in second grade!