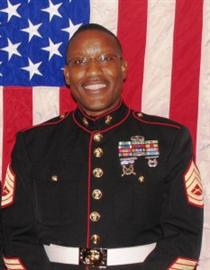 Phone: 850-410-1992
Email:
Degrees and Certifications:
MILITARY Degree in Information Systems Technology Minor Degree in Military Science Advanced Personnel Administration Course Advance Supervisory Training Substance Abuse Coordinator Course Train the Trainer Coordinator Course Information Systems Coordinator Course Writing Winning Proposals Fundamentals of Leadership Course Ergonomics Training Total Quality Leadership Course Microsoft Network Essentials 1&2 Certification Network Administration Certification A+ Certification Office Systems Technology
GySgt Anthony Reaves, USMC (Ret.)

Gunnery Sergeant Anthony L Reaves, USMC (Ret)
Marine Instructor for the Marine Corps JROTC Program.

Currently, a certified Marine Corps Junior Reserve Officer Training Corps Instructor and Teacher of Leadership Education at Leon High School, Tallahassee FL for more than 23 plus years.

Before retiring from the United States Marine Corps with more than 21 years of active service, he held a multitude of Command billets at the Platoon, Company, Battalion and Brigade level. Additionally, he served with distinction at the highest level staffs within the Marine Corps and the Department of Defense.

An Infantry and Drill Instructor Staff Non Commissioned Officer by MOS, he directed Marines at the Platoon, Company, Battalion, and Brigade levels, and as the Assistant Marine Officer Instructor at Florida A&M University Naval ROTC.

During his career, he was a valued asset to every position he ever held, including developing guidance, policy formulation, budget management, training management, strategic, operational, and tactical planning during both peacetime and wartime scenarios.

His educational credentials are well presented. He holds a Degree in Information Systems Technology, with a minor degree in Military Science. He has also completed several professional schools over his military career; Staff NCO Leadership Course, Advance Staff NCO Leadership Course, Drill Instructor School, Instructor Management School, plus several more.