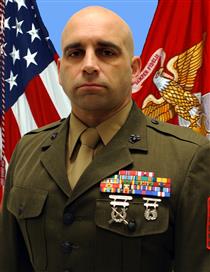 Phone:
Email:
Degrees and Certifications:
Sergeant Major Russell Brown, USMC (Ret.)
SgtMaj Russell Brown, USMC (Ret.)
Sergeant Major Brown enlisted in the Marine Corps in September 1987 and reported to Recruit Training at Marine Corps Recruit Depot, Parris Island, South Carolina, on August 8, 1988.
He started his career as a Computer Programmer, writing code in the language of COBOL. He retired as a Regimental Sergeant Major, in an artillery unit, responsible for more than 3000 Marines.
In between those events, his career was a storied one. He participated in relief efforts in Charleston, SC, in the wake of Hurricane Hugo. He spent three years Recruiting the next generation of Marines in Chicago, and three others protecting American lives and property in the U.S. Embassies in Pakistan and Hungary. He became a Data Networking Chief, responsible for the Marine Corps Enterprise Network across the entire island of Okinawa, Japan. He led Marines as a First Sergeant and subsequently as a Sergeant Major, in a wide array of organization types in garrison: Supply, Maintenance, Headquarters, Logistics, and Aviation. They had a multitude of missions: Bilateral Training with allies all over Asia, Humanitarian Relief in Sri Lanka, Burma, the Philippines, and Japan.
Sergeant Major Brown was deployed in support of Operation Iraqi Freedom from 2005 to 2006. He was responsible for members from every branch of the U.S. military, and some from multiple different nations' militaries, as well.
Throughout his career, his positions required him to do a myriad of tasks: manage budgets, develop training programs, coordinate events for Marines and their families, assist in writing command policy at the highest of levels, and lead warriors into combat. However, throughout it all, his mainstay was leadership. Training, mentoring, and inspiring young men and women to help develop them into the best Marines, and best people they could be.
Sergeant Major Brown is married to his wife, Vivian for nearly 22 years. They have two sons, Dominic and Darius.
Sergeant Major Brown's personal awards include the Bronze Star, Meritorious Service Medal (gold star in lieu of third award), Combat Action Ribbon, Navy Commendation Medal, Joint Service Achievement Medal, and the Navy and Marine Corps Achievement Medal.