2018-2019 Student Testing Schedule
| | |
| --- | --- |
| Date | Assessment |
| May 7 and 8 | Grade 9 FSA ELA Reading |
| May 13 and 14 | Geometry EOC |
| May 15 and 16 | Algebra 1 EOC |
| May 20 | Biology EOC |
| May 22 | US History EOC |
Modified Bell Schedule
| | | |
| --- | --- | --- |
| FSA ELA Grade 9 Reading | Tuesday, May 7 | Wednesday, May 8 |
| 7:30 – 10:25 a.m. | 1st period (Group A) | 2nd period (Group B) |
| 10:25 – 11:05 | Lunch | Lunch |
| 11:10 - 1:50 p.m. | 2nd period (Group B) | 1st period (Group A) |
---
STUDENT SAFETY FIRST
Student safety is one of our top priorities here at James S. Rickards High School. To help us ensure student safety, a new pedestrian crosswalk with flashing lights has been installed in front of James S. Rickards High School. Instead of traffic simply flowing uninterrupted down the street, there is now a flashing/blinking light to indicate that traffic should stop and yield to pedestrians crossing the street.
When you approach the crosswalk, come to a complete stop until students are out of the crosswalk. We need your help to keep our students safe as they cross the street in these well-marked designated areas.
Please note that Florida Statute 316.130 states that drivers are to "stop before entering the crosswalk and remain stopped to allow a pedestrian, with a permitted signal, to cross a roadway when the pedestrian is in the crosswalk or steps into the crosswalk and is upon the half of the roadway upon which the vehicle is traveling or when the pedestrian is approaching so closely from the opposite half of the roadway as to be in danger." 316.130 (7)(a).
I appreciate your continued support as the principal of James S. Rickards High School. As we continue to experience growth in our Southside community, we will experience an increase in the number of students crossing the street for school. Thank you for helping us to keep them safe as they pursue their high school education with us.
---

---

---
21st Century Community Learning Center 2019 Summer Institute
June 3rd - 27th and July 8th - 25th
If your student would like to participate in the 21st Century 2019 Summer Institute, registration forms are available on the school's 21st Century website, and in the front office. For more information, contact Dr. McNeil.
We look forward to providing services to your student to promote academic and personal growth.
The 21st Century Community Learning Centers (CCLC) program is a free learning center program that offers a variety of stimulating activities to promote school success and personal well-being in a safe environment for students. Throughout the school year, 21st CCLC provides various activities to students, which includes tutoring, college tours, academic advising, leadership mentoring, credit retrieval, and much more! This summer we are thrilled to provide the 21st CCLC Summer Institute for six weeks, Monday – Thursday, from June 3rd through June 27th and July 8th through July 25th on the campus of James S. Rickards High School. Operating hours will be 8:00am to 1:00pm.
The Institute will serve incoming 9th through 12th-grade students who will be attending James S. Rickards High School during the 2019-2020 school year. The program will provide an opportunity for students to experience academic and enrichment-focused learning. Students will participate in activities that will challenge and prepare them for high school and college-level success. The summer Institute will also offer a host of fun and exciting enrichment activities.
Your next steps are to: Complete the registration packet and return on or before June 3, 2019 to your 21st CCLC Site Coordinator or JSRHS Main Office. The earlier the better!
Contact Information
Dr. A. McNeil, 21st CCLC Site Coordinator
---
STATE SCIENCE FAIR
Congratulations to the following student who placed in the State Science Fair last week:
Tanvi Haldiya- 3rd place in Biomedical and Health Science
Max Ngnepieba- Recognition award in Plant Science (6th place)
---
CONGRATULATIONS TO RICKARDS HIGH SCHOOL SHARK BOWL FINALIST
Jalah Pugh
Nevada Johnson
Jaharie Reddick
Kamareen McClellan
Leon Meyers
Each finalist will receive a $40 WHATABURGER gift card to be awarded at the school assembly on March 11th during 4th period in the auditorium. At the assembly, one finalist will be chosen as the top Presenter to Rickards High School, and the Runners-up will showcase their business model displays at the Junior Achievement Big Bend Shark Bowl reception on April 25, 2019.
---
SCHOOL CHOICE DEADLINE
If you want your child to be accepted into the Rickards IB, Engineering, Health Academy or AVID program, you must fill out an application online. This can be done by accessing your student's FOCUS account. School Choice applications are all submitted through the student's FOCUS account this year, so you just need to log in to your FOCUS account, click on "my child," scroll to the bottom of the drop-down menu, and click on school choice. A new screen will pop up that will allow you to select one of the programs at Rickards as your first choice. Once you submit that application, you will be all set. You can contact the Choice office at 850-561-8484 if you have any problems. The deadline is March 1.
---
PROSPECTIVE SGA MEMBERS
Hooray! The first step in becoming a part of James A. Rickards High School Student Government Association (SGA), is done by picking up your application. With great honor this letter is to inform you of your duties and expectation as an officer in SGA. If additional information is needed, please view the James S. Rickards High School Student Government Association Constitution Article VI; Section I; Subsections I-VI which states the class officer duties and it can be obtained from Mr. Sea.
Each position will be elected by your peers and as a member of James S. Rickards Student Government Association you are a leader and an elite example of what a student should be here at school. The actions displayed MUST be of scholarly standards and requirements. There is a $35.00 fee, which will include polo shirts, name badge, and some working lunches.
Dates to Remember:
Application due – Wednesday, February 13, 2019 by 3:00 pm
Application Approval Notice – Monday, February 18, 2019
Campaign Meeting – Tuesday, February 19, 2019 at 6pm in Room 1411
Campaign – February 25, 2019 through March 8, 2019 pm
Elections – Tuesday, March 12, 2019 in media center during Social Studies and AVID Dept.
NOTE: The administration reserves the right to nullify or revoke student eligibility for office if non-fulfillment of duties is an issue.
---
SCHOOL SECURITY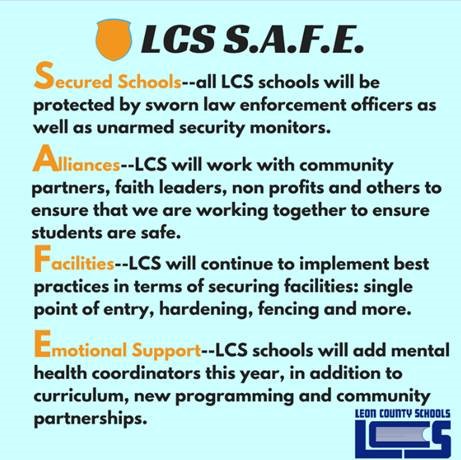 ---
FLORIDA DEPARTMENT OF LAW ENFORCMENT