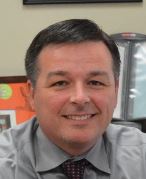 Dear Parents/Guardians,
What a great start to the school year! Our teachers and students have been focused and enthusiastic and the results have been positive. I know this commitment will continue throughout the year as we uphold the tradition of excellence that has been built by Lincoln's students and faculty. Lincoln teachers and staff are working tirelessly to provide a great education for all students every day. I know this is year is going to be special because we have the best teachers, coaches, and staff members in the state.
Our theme this year is "Just One". Lincoln is a model high school for academics, athletics, and extra-curricular activities. Our academics are ranked nationally every year, our athletic and academic teams consistently compete for championships, and our clubs and organizations work constantly to help improve our community. Lincoln stands alone through our unprecedented success in so many areas and it is because of our students, staff, and community. Thank you for all that you have done and will continue to do to keep Lincoln High School among the elite high schools in the nation! Although we have a history of successes at Lincoln, we will continue to set new goals and I appreciate your support and your involvement as we continue to improve every day. Please feel free to contact me if I can be of assistance to you or your student.
Go Trojans!