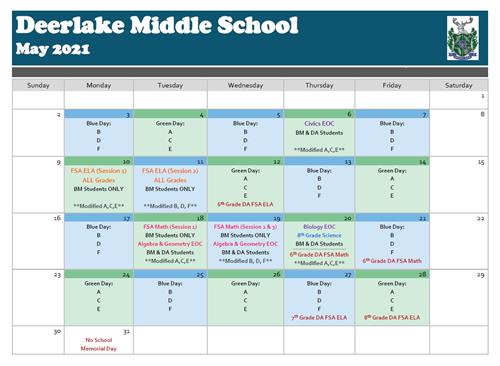 2021/2022 Course Request Forms for rising 6th, 7th and 8th graders are below.
2021/2022 6th Grade Course Request Form
2021/2022 7th Grade Course Request Form
2021/2022 8th Grade Course Request Form

Click HERE for Summer Camp information.

Click HERE to order a yearbook online.
LCS Canvas Parent App
The Canvas Parent app allows parents to observe the course activities of their child(ren) and is available using iOS and Android devices. It can easily be set up in a few minutes.
For details on what the app can do, directions on setting it up and generating a pairing code, visit the Parent Academy page on the Digital Academy website: https://www.leonschools.net/Page/48751.
Click HERE for Deerlake Digital Academy Information.
Dates to remember:
Deerlake Middle School
Block Schedule
First Bell 9:20
A/B Period 9:30 - 11:15
C/D Period 11:20 - 2:05
7th Grade
11:20 – 11:25 Attendance
11:25 – 11:55 Lunch
11:55 – 1:35 C/D Period (100 min.)
1:35 – 2:05 Homeroom
6th Grade
11:20 – 12:05 C/D Period (45 min.)
12:05 – 12:35 Lunch
12:35 – 1:35 C/D Period (60 min.)
1:35 – 2:05 Homeroom
8th Grade
11:20 – 1:05 C/D Period (105 min.)
1:05 – 1:35 Lunch
1:35 – 2:05 Homeroom
E/F Period 2:10 – 3:50