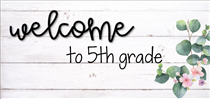 Welcome to 5th grade! To make the transition to digital academy easier for the first day of school, please follow the steps below. If you run into any roadblocks, please email me and we can get you up and running in no time.

Getting Started

1. Begin by having your student log into their class link via the Kate Sullivan Website. Please remember that the students login is studentnumber@edu.leonschools.net and their password is their lunch pin.

2. Once in class link, click on the Canvas tile.

3. Once in Canvas, students will see the tiles for all of the courses that they are enrolled in. To start your day, select the "Homeroom" tile.

4. Once in Homeroom, there are a few things that you should check out. First, beginning at 8:30, students need to check-in for attendance. To do this, locate the banner at the bottom of the Homeroom page and click on it. It will take you to a discussion question. Please answer the question by 8:45 to be marked "present." Students checking in after 8:45 will be marked "tardy." (We will be flexible the first week with this new check in process not to worry.)

5. While in the Homeroom tile, students need to also look at their daily schedule by clicking on the "Daily Schedule" button. This will tell them what times to be present for each of their classes. They will also look at the "Special Area Rotation" button. This will tell them which special area they are to be attending during their special area time (found on the Daily Schedule button).

Accessing Assignments

1. To access daily assignments, click on the correct class tile on Canvas at the time that class begins (check "Daily Schedule" button on the Homeroom tile for correct times). For example, Mrs. Vega's homeroom math class students will start on their Math tile at 9:30. Once you have clicked on the tile, simply select the correct day of the week. There you will find a list of all of the activities that you are to complete for that day. (All of the assignments and activities have been hyperlinked, all you need to do is click on the BLUE words in your instructions and you will be taken to the content that you need.)




As always, please reach out if you have any questions or are unable to access the information that you need.
Last Modified on August 28, 2020