Troubleshooting tips you might find helpful.

Classlink is available as an app
YOU MUST BE ON GOOGLE CHROME FOR CLASSLINK TO WORK PROPERLY


• The yellow arrow points to AR (Renaissance) where your child reads a book and then takes a 3 or 5 question quiz to check comprehension. All levels have been removed so your child may read any available AR book you have on hand. You will receive the message when you log in and click Learn More. (WE HAVE NOT STARTED USING AR, STAY TUNED!)

• The blue arrows indicate iReady (Reading and Math), Think Central (Math) and MH Connected/Wonders (Language Arts). Think Central and Wonders are the curriculum we have been using in the classroom. (CURRENTLY AVAILABLE!)

• Brain Pop Jr has movie clips, online easy and hard quizzes, games and supplemental activities that covers Language Arts, Math, Science and Social Studies.

TO LOGIN TO CLASSLINK:

Go to KSES Home Page

Click on the Blue Cloud

Students MUST use their FULL username (Ex: 123456789@edu.leonschools.net) AND their 5 Digit Lunch Pin is their

Password. WE HAVE PRACTICED THIS IS THE CLASSROOM BEGINNING TUESDAY, SEPT. 15TH ON OUR CHROMEBOOKS.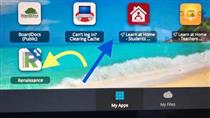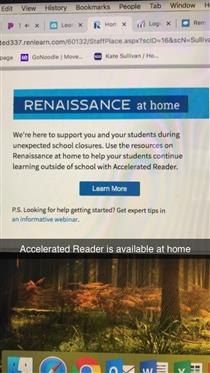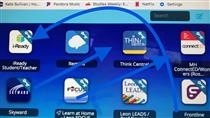 Last Modified on September 20, 2020