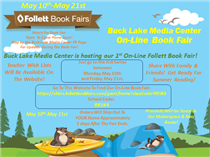 Follett E-Fair Online Book Fair
We are thrilled to host our very first online book fair. Due to safety, we have chosen not to have our in-person book fair this school year.

We HAVE chosen to offer an alternative to our families to provide books for summer reading this year for our Bobcats. Our Follett Online Book Fair will run

from May 10th until May 21st. We hope you will enjoy this opportunity. You are able to filter and look for books based on grade level, interest, price, etc.

Our teachers have filled out electronic wish lists, so feel free to check those out.

All books will be shipped out approximately 3 days after the fair closes and will be mailed directly to your home. Please let Ms. Young know if you have any questions. You may email her

at youngk@leonschools.net.

Happy Shopping and Happy Reading!

Click the link above to visit our online book fair!