Annual Districtwide Employee Training
LCS Annual Required Training for Transportation Personnel
Each year all personnel must be updated on workplace protocols regarding: Sexual Harassment, Ethics, Computer Security, Student Data Privacy, Social Media, Texting for Work, and W-2 Selection. This year's course also includes helpful information regarding COVID-19 protocol. All transportation employees have been registered for the course. This training MUST be completed by Wednesday, September 30, 2020.

The LCS Annual Required Training for Transportation Personnel can be viewed on the LCS Transportation webpage at https://www.leonschools.net/Page/44349.
.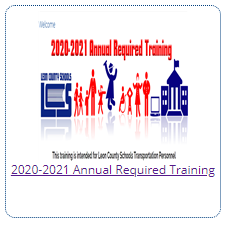 If you have any questions, please let me know.
Johnnie Douglas
Project Manager of Recruitment, Training and Driver Evaluation
Leon County Schools Transportation
1156 Capital Circle SW
Tallahassee, Florida 32304
P 850-488-2636 | C 850-404-4849
douglasj@leonschools.net
---