Return to Headlines
COCA Arts Education: "Sealey students show love and understanding with art"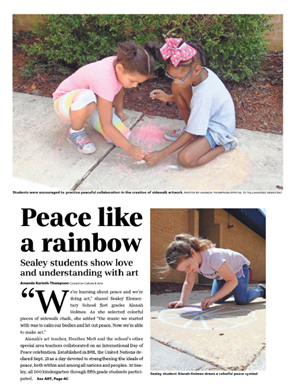 COCA Arts Education: "Sealey students show love and understanding with art"
By: Amanda Karioth Thompson
"We're learning about peace and we're doing art," shared Sealey Elementary School first grader Alanah Holmes. As she selected colorful pieces of sidewalk chalk, she added "the music we started with was to calm our bodies and let out peace. Now we're able to make art."
Alanah's art teacher, Heather Mott and the school's other special area teachers collaborated on an International Day of Peace celebration. Established in 1981, the United Nations declared Sept. 21 as a day devoted to strengthening the ideals of peace, both within and among all nations and peoples. At Sealey, all 500 kindergarten through fifth grade students participated.
Mott spent time with each grade level, discussing the role of the United Nations and some of the ways they address global issues including poverty, health, education and social justice. "This year the emphasis of Peace Day is global warming and climate change. We talked about what the kids can do at home and in their community to help and that it's important for everyone around the world to do their part."
Students explored how they could use art to initiate peace. Mott said "we talked about symbols of peace and I explained that when you're drawing on the sidewalk, you're a public artist. The sidewalk is your canvas and you're here to send your message out to the world of what peace means to you."
Eager to communicate their thoughts visually, Alanah and her fellow classmates left their mark. Hearts, rainbows, happy faces, doves, flowers, and other images were emblazoned upon the walkways that crisscross campus. As she drew a giant peace symbol, Alanah explained, "I love art and I think using different colors resembles the idea of peace. I'm using all the colors that I love."
"I think that peace is like a celebration," Alanah added. "We can try to use a kind, calm and natural way to understand that our differences make us who we are. I think I'm very special and other people are too."
Mott echoed that sentiment with her deep belief that "every human being is born with the right to live a peaceful existence."
Amanda Karioth Thompson is the Assistant Director for the Council on Culture & Arts. COCA is the capital area's umbrella agency for arts and culture (www.tallahasseearts.org).