Return to Headlines
COCA Arts Education: Digital Drama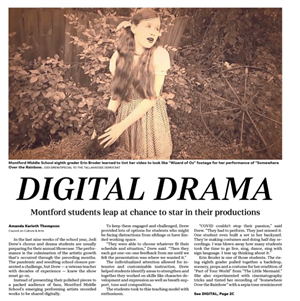 Digital Drama
By: Amanda Karioth Thompson
In the last nine weeks of the school year, Jodi Drew's chorus and drama students are usually preparing for their annual Showcase. The performance is the culmination of the artistic growth that's occurred through the preceding months. The pandemic and resulting school closure presented a challenge, but Drew — a veteran teacher with decades of experience — knew the show must go on.
Instead of presenting their polished pieces to a packed audience of fans, Montford Middle School's emerging performing artists recorded works to be shared digitally.
To keep them engaged and challenged, Drew provided lots of options for students who might be facing distractions from siblings or have limited working space.
"They were able to choose whatever fit their schedule and situation," Drew said. "Then they each got one-on-one feedback from me until we felt the presentation was where we wanted it."
The individualized attention allowed for intensive and customizable instruction. Drew helped students identify areas to strengthen and together they worked on skills like character development and expression as well as breath support, tone and composition.
The students took to this teaching model with enthusiasm.
"COVID couldn't stop their passion," said Drew. "They had to perform. They just missed it. One student even built a set in her backyard. They're making costumes and doing half day recordings. I was blown away how many students took the time to go live, sing, dance, sing with sign language. I tear up thinking about it."
Erin Broder is one of those students. The rising eighth grader pulled together a backdrop, scenery, props and a costume for her rendition of "Part of Your World" from "The Little Mermaid." She also experimented with cinematography tricks and tinted her recording of "Somewhere Over the Rainbow" with a sepia tone reminiscent of 1930s films.
"Mrs. Drew's assignments have inspired me," she said. "I've done things from home that I've never done in school."
Erin's mom, Jennifer Broder, agreed.
"During this time of homeschooling, the arts have given my daughter a channel for her creativity," she said. "It's made me happy to see her so involved, rather than just sitting in front of the computer."