Return to Headlines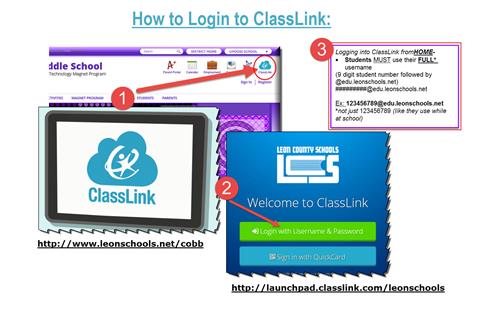 ClassLink
ClassLink, a single sign-on platform allows teachers and students to use one username and password to access everything they need.

Here is how to help your students get started:

Click the blue cloud icon or click the link below:
https://launchpad.classlink.com/leonschools

Use your LCS Username and Password to login to ClassLink


*Important Note from HOME:
---
CLASSLINK - LCS SSO apps remove putdated apps


If you loaded the original LCS SSO app from the Apple or Google Play stores, users should uninstall the app and replace it with the updated ClassLink LaunchPad apps below for your device.



The new ClassLink Launchpad app is available at the links below and has a different icon so you can tell if you have the correct updated app


To get started today, download the ClassLink Launchpad app from Apple App or Google Play.


---

Clearing a bad cached file on your home or work computer

At-Home learning troubleshooting of Cached Files
Please Note: - If you get an error when attempting to login to Focus, Renassiance, or Office365, you may have a bad cached login page. This is a locally cached version on your computer that you opened previously which has an error and needs to be deleted.



--- You can verify this is what is happening by using a different browser or opening a private or incognito mode window. If it woirks fine when doing that, you need to clear your browsers cache. Make sure to remove the checkmark on password to prevent removing stored passwords

To erase this locally stored file, you need to clear your browsers cache. Helpful instructions for your specific browser can be found here: http://www.refreshyourcache.com



---