Return to Headlines
Stay up to date with LCS News, watch videos, check the calendar, and visit your school's website all on the new LCS App for your phone!

The new LCS mobile app for iPhone and Android smartphones is now available for download. Stay connected while you're on the go with this FREE mobile app that brings you the latest news and information about our schools.

Our new mobile app keeps you better informed about news and events in our district and schools. The app delivers real time school news to your smartphone for fast, up-to-date access.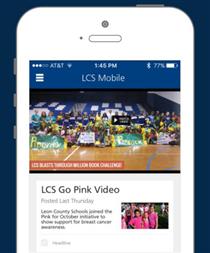 With the app you can:
• Get the latest district and school news.
• Select the schools you want to follow.
• Get push notifications about breaking news, closures, weather, events, and more.
• See the latest photos from school events.
• Quickly access school locations, phone numbers, and staff information.

To download on your mobile:
1. Visit iTunes App Store® or Google Play®.
2. Search "Leon County Schools."
3. Select the Leon County Schools App with the LCS Logo.


With our mobile app in the palm of your hand, the latest LCS news is just a few taps away. Download it today!

Simply search for Leon County Schools in the Apple iTunes store or the Google Play store -make sure you click on the app with the blue LCS logo by Schoolwires.


Apple- https://itunes.apple.com/us/app/leon-county-schools-lcs/id858779051?mt=8