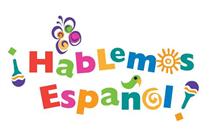 Welcome to my Spanish Class
The first few weeks of school are going to go by very fast. To help you keep up with what's going on in class, please make sure to do the following:

Sign up for Quizlet as soon as possible. Search "cabrerom" and then, requess to join the class. Scroll as needed to find the period you are in.

Join the class on the Santillana's Website and learn how to access the textbook online.

Study the vocabulary that we are using in class, and make sure to get a handout of it if there was one given. Keep it in your binder or folder. If you lose any handouts you can print yourself one from the class website. Study with Quizlet so that you are also practicing the pronunciation every day. If you have any questions or difficulty pronouncing any words, make sure to ask during class.
Come to class prepared with the school supplies needed: a notebook or paper, a folder or binder, and plenty of pencils. Having a set of earbuds would be very helpful on days we are in the computer lab.
If you are absent from class or were added to my class after the beginning of school, please ask another student to let you copy any notes that might have been given out. Also, see me for extra help and to get you caught up as needed. I am available with an appointment.

I am looking forward to working with you to make your experience in my Spanish class a great success.
Last Modified on July 31, 2018