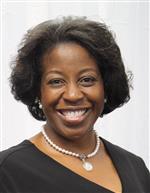 Phone:
Email:
Degrees and Certifications:
Regina Browning

This summer Adult & Community Education School has relocated our main campus to 526 Appleyard Drive, announced two new off-site locations and unveiled a new logo. We have experienced a whirlwind of change, but our mission remains the same. In fact, our new locations will help us better serve adults 16 and older who need to earn a high school diploma, learn English or make up a core high school class to stay on track for graduation!

I am looking forward to welcoming our students to our new campus. A major advantage of our new location is we are in the education district near both Lively Technical Center and Tallahassee Community College (TCC). More than half of the graduates from our GED® program immediately enroll in a post-secondary school, with Lively and TCC being the most popular schools our graduates attend. We believe this proximity for students at our main campus will give them added opportunities to learn about classes and programs these schools offer that might interest them and help them in their future!

Our new campus provides spacious classrooms for all of our programs and we are excited to open two new locations for GED® classes this year. This will allow us to offer GED® classes in ten locations throughout our community.

We will have morning, afternoon and evening classes in a building located on the Apalachee Tapestry Magnet School of the Arts campus. This location is adjacent to our former campus on Trojan Trail and will be convenient for students who live on the east side of town.

We are opening morning classes, Tuesday through Thursday, at the Bradfordville Community Center, also known as the "One Room School House." This location at 6808 Beech Ridge Trail is near the Bannerman Road and Thomasville Road intersection. This class will function like all of our other off-site classes and I am particularly excited at how this historic location helps highlight some of the unique strengths of adult education.

Teachers in all of our off-site locations utilize some of the same teaching methods used in the traditional one-room schoolhouses. They also have the advantages of utilizing laptops, the internet and computer-based software to guide individualized instruction for some students while the teacher guides instruction for others. Through this method, adult education is able to tailor the learning experience to the individual students' need.

In addition to new locations, ACE has a new logo. The new logo is a mortarboard or graduation cap sitting on top of the planet Earth. The graduation cap represents our GED® and High School Credit classes that help students earn a high school diploma. The Earth represents the thousands of students we serve each year, often representing more than thirty different nations.

The new logo was designed with input from eight student focus groups. The symbols represent what our school does and who we serve. Students also said the planet represents how, with education, they have access to a world of opportunities.

Finally, I want to invite everyone to our ribbon cutting celebration at 11 a.m. Sept. 12. Please continue to visit our website and social media accounts for more details and updates.