For the 2021-2022 school year, we are looking forward to all of our students being back In Class, whether it's in-person, or at Leon County Virtual School.
Your Guide to Masks
At this time, LCS is temporarily requiring all Pre-K - 8th grade students to wear a mask with a medical opt-out; 9th - 12th grade students are temporarily required to wear a mask with a parent opt-out.

Per CDC guidelines, if you are not fully vaccinated and aged 2 or older, you should wear a mask in indoor public places.

In general, you do not need to wear a mask in outdoor settings.

People who have a condition or are taking medications that weaken their immune system may not be fully protected even if they are fully vaccinated. They should continue to take all precautions recommended for unvaccinated people, including wearing a well-fitted mask, until advised otherwise by their healthcare provider.
If you are fully vaccinated, to maximize protection from the Delta variant and prevent possibly spreading it to others, wear a mask indoors in public if you are in an area of substantial or high transmission.
If you are fully vaccinated, see When You've Been Fully Vaccinated.

Important: Currently Leon County's Community Transmission is classified as HIGH

See the COVID-19 County Check widget below for the most recent data
Concerns over whether masks reduce Oxygen (O2) or increase Carbon Dioxide (CO2)
Wearing a mask does not raise the carbon dioxide (CO2) level in the air you breathe

Cloth masks and surgical masks do not provide an airtight fit across the face. The CO2 escapes into the air through the mask when you breathe out or talk. CO2 molecules are small enough to easily pass through mask material. In contrast, the respiratory droplets that carry the virus that causes COVID-19 are much larger than CO2, so they cannot pass as easily through a properly designed and properly worn mask.
COVID-19 How it spreads

COVID-19 spreads when an infected person breathes out droplets and very small particles that contain the virus. These droplets and particles can be breathed in by other people or land on their eyes, noses, or mouth. In some circumstances, they may contaminate surfaces they touch. People who are closer than 6 feet from the infected person are most likely to get infected.

COVID-19 is spread in three main ways:

Breathing in air when close to an infected person who is exhaling small droplets and particles that contain the virus.

Having these small droplets and particles that contain virus land on the eyes, nose, or mouth, especially through splashes and sprays like a cough or sneeze.

Touching eyes, nose, or mouth with hands that have the virus on them.
Protecting yourself and your family
Delta Variant

The Delta variant causes more infections and spreads faster than earlier forms of the virus that causes COVID-19. It might cause more severe illness than previous strains in unvaccinated people.

Vaccines continue to reduce a person's risk of contracting the virus that cause COVID-19, including this variant.

Vaccines continue to be highly effective at preventing hospitalization and death, including against this variant.

Fully vaccinated people with breakthrough infections from this variant appear to be infectious for a shorter period.

Get vaccinated and wear masks indoors in public spaces to reduce the spread of this variant.
Protect Yourself and Others
Protect Yourself and Others

Anyone infected with COVID-19 can spread it, even if they do NOT have symptoms.

What You Need to Know

If you are NOT fully vaccinated and 2 or older, you should wear a mask in indoor public places.
In areas with high numbers of COVID-19 cases, people should wear a mask in crowded outdoor settings and for activities with close contact with others who are not fully vaccinated.

Otherwise, you do not need to wear a mask in outdoor settings.

Learn more about what you can do to protect yourself and others and what you can do after you've been fully vaccinated.
How to Select a proper mask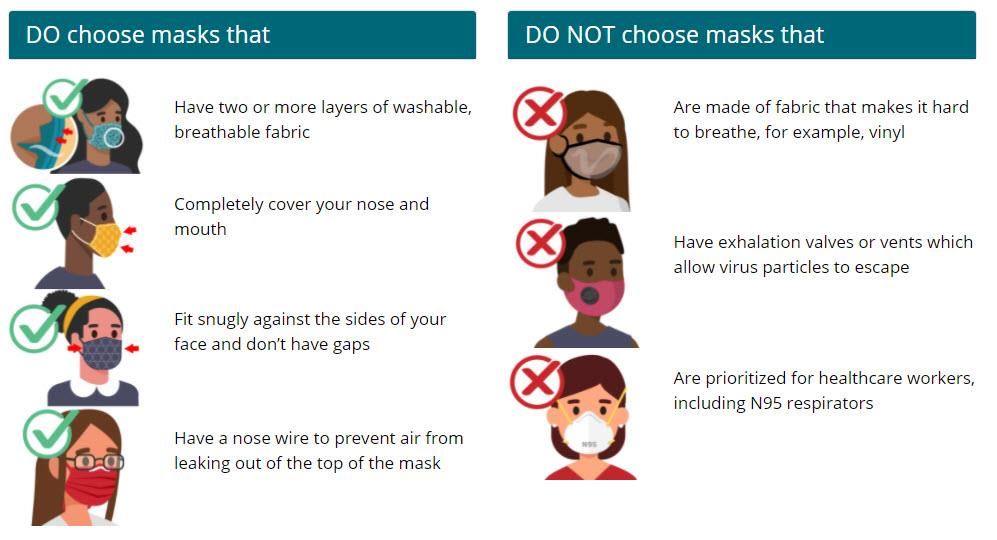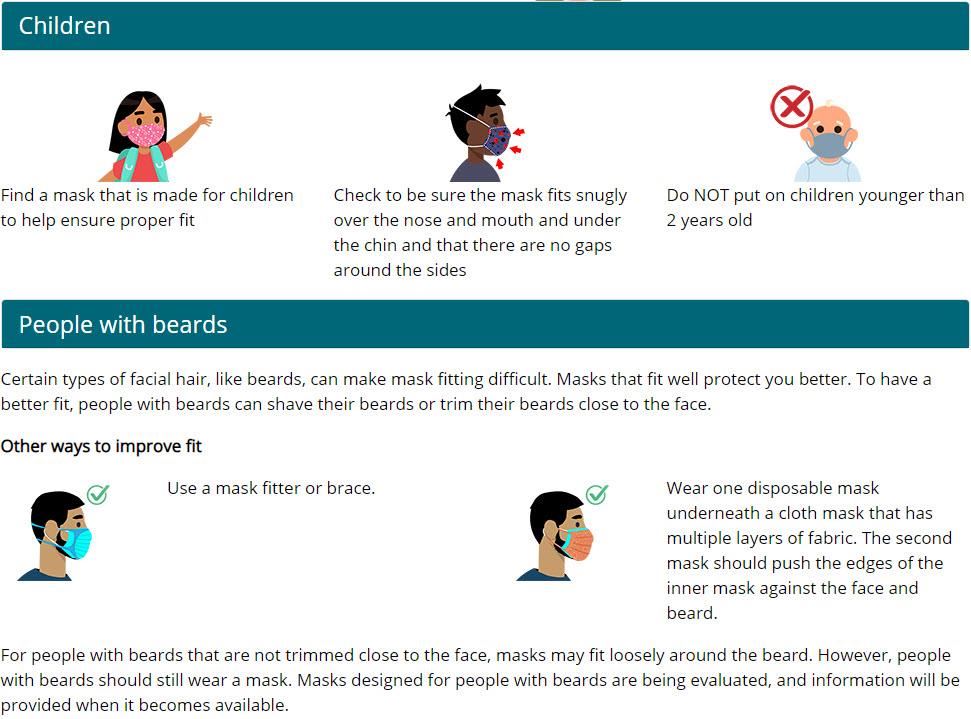 Wear a mask correctly and consistently for the best protection.

Be sure to wash your hands or use hand sanitizer before putting on a mask.
Do NOT touch the mask when wearing it. If you have to often touch/adjust your mask, it doesn't fit you properly, and you may need to find a different mask or make adjustments.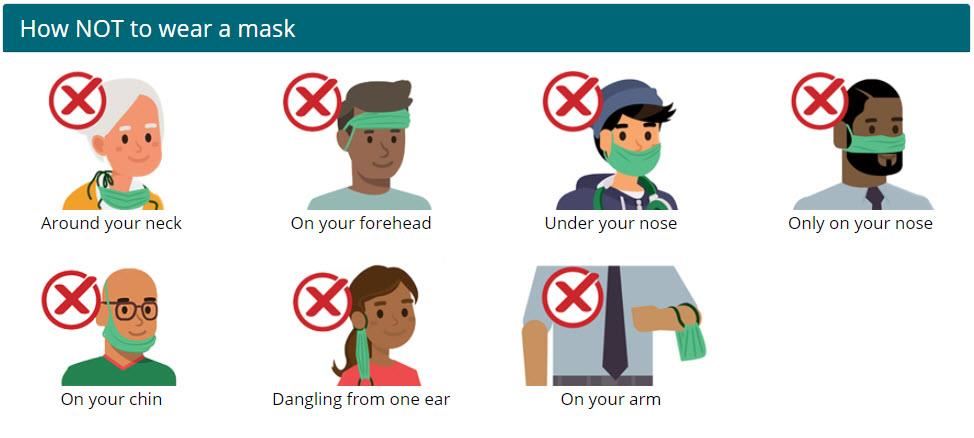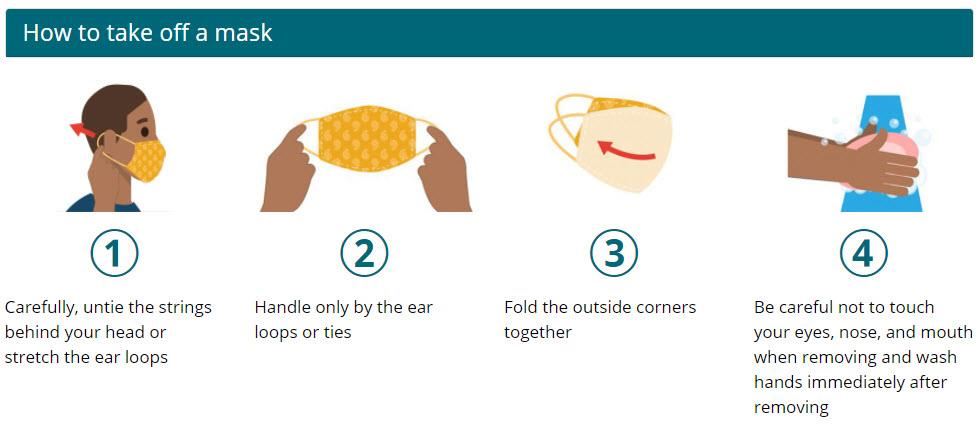 Reusable masks should be washed whenever it gets dirty or at least daily. If you have a disposable face mask, throw it away after wearing it once. Always and wash your hands after handling or touching a used mask.






Last Modified on September 13, 2021