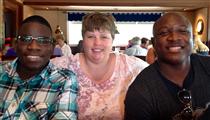 Phone:
Email:
Degrees and Certifications:
Kris Schneggenburger

Welcome!! I am Kris Schneggenburger and I have been teaching Special Education since 1991. Please don't do the math! It makes me feel old!!

My passion is working with children and families with different developmental needs. My goal is to always strive to provide a learning environment where I would want my own children to be. An atmosphere where everyone is welcomed, believed in, encouraged, and cared for.

I am the proud single parent of two amazing sons whom I adopted from the foster care system. There is no doubt that this is where my strong belief stems from for believing in all children to have an incredible future, regardless of abilities and backgrounds. My oldest son is 30 years old. He is am EMT and works at the hospital and on an ambulance. He loves soccer and is also a professional DJ. My youngest son is 19 years old and is a sophmore at Florida State University. He is studying to become a registered nurse.

I am also the proud parent of four awesome dogs. Two of them are rescues, but let's be real...they rescued me! I love all animals and am very thankful to share my home with this crazy crew.