Digital Platforms Status Dashboard
Below are the dashboards showing the current status of the listed platforms.

If you are suddenly experiencing issues accessing any of your digital platforms (ClassLink, Canvas, Zoom), please check their status below first to see if the platform is having known trouble before calling the LCS Call Center.

Normal Status -

[

GREEN

Status

] -

If the platforms status is marked as All Systems Operational and you are still having issues, then please call us so we can assist you.

Trouble Status -

[

YELLOW or

RED

STATUS

] If the platform is showing as having an issue, then there is no need to call as the issue is occouring with the platform itself and is being worked on, This means that it is not your account or computer so we are unable to assist troubleshooting until the platform has been returned to its normal operational status.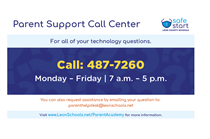 Last Modified on August 26, 2022