Library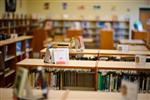 The Media Center provides students and teachers materials for both recreational reading and instructional activities. Students are encouraged to visit the Media Center as often as needed. They are provided with opportunities to visit through scheduled classes and on an individual basis. Two book fairs are held during the year. We will had the first one in October and our second one will be held in May. All profits from the fairs will be used to purchase more books and materials for the library. Please plan to attend. Award books are featured in the fall in the library. These books are denoted with a half circle, bright yellow color, on the spine, along with the award sticker. The highlighted books include: Pura Belpre awards for author and illustrator – given to Hispanic authors and illustrators. This award is given every other year. Coretta Scott King awards for author and illustrator – given to African American authors and illustrators. Newbery award – given to an author for a great story. Caldecott award – given to an illustrator for great illustrations. Sunshine State Young Readers Award – 15 great books for 3rd through 5th grades, and 15 great books for 6th through 8th grades. Florida Reading Association award – given to 8 great books for Kindergarten through second grades. Students may check out books from the library and keep them up to two weeks.
Kindergarten, first and second graders may check out one book at a time.
Kindergarten students keep their books in the classrooms.
First graders are allowed to checkout after the parents have signed a permission form. They must bring their library bag to the library to do a checkout.
Third through fifth may check out two books at a time. Books may be renewed if needed.


Students are encouraged to be very careful with our books so that they stay in good condition. Astoria Park has an Accelerated Reader program and students are encouraged to participate. A.R. books are marked with a half circle, orange colored, on the spine and then another sticker denoting reading level. Many books in our collection are A.R. books. Parent visitors and volunteers are always welcome in the Media Center. Ms. Beth Freeman, the media specialist, and Ms. Robin Washington, the media assistant, are always happy to have guests stop in. Ms. Beth Freeman